If you are using Google Calendar already, it is very easy to subscribe to this free Fifa Football (Soccer) World Cup 2018 calendar 
Please note: if you subscribe to this free webbased calendar, the additional events are not included into your private Google calendar, but they are added in a new, additional calendar that can be update by us remotely! We have no access to or control over your private calendar, but we can still remotely update the 2018 World Cup calendar!
You can also download our calendar data (it is public) and import it into your normal calendar. But the we cannot update the data any more!
Step1: log into and open your own Google Calendar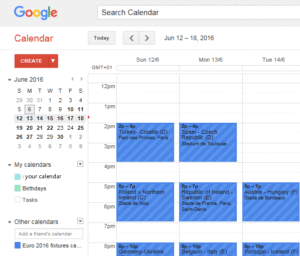 Step 2: click this green link bar:
Football World Cup 2018 Fixture Subscription with Google Calendar
Step 3: On the pop up notice, click "Yes, add this calendar"
By doing that, you subscribe to our calendar and then you will be able to see the 2018 Fifa World Cup in your Google calendar account.
Step 4: after a while (can take several hours!) you can see the data of this additional calendar next to your private Google Calendar.
The additional calendar will appear underneath "other calendars" on the left hand side.
Step 5: You can chose your own color and notification settings using the dropdown menu that is visible when you hover over the new calendar.
If you are using an Android device with Google Calendar, you can also see this additional ical-Calendar on your mobile phone. It will take some time to appear there in your normal Google calendar app. It helps to use a fast internet connection (wifi) as the data has to be syncronized.
You might have to play around the the settings to make the new calendar data appear in your calendar app.
---
If necessary, please refer to these descriptions how to subscribe to iCal-based calendars using your calendar system:
These are all the matches of the Fifa World Cup final tournament 2018 in Russia as they are currently provided in our free fixtures calendar:
⚽ World Cup opening. Russia-Saudi Arabia (A) 5:0

kick off: Thursday, 14/06/2018, 16:00 GMT
location: Luzhniki Stadium Moscow
⚽ Opening Game of FIFA 2018 Football World Cup
Free LiveStream (German, only in Europe) at https://live.daserste.de/


⚽ Egypt - Uruguay (A) 0:1

kick off: Friday, 15/06/2018, 13:00 GMT
location: Yekaterinburg
⚽ Fifa Football (soccer) World Cup 2018 in Russia. Group stage game in GroupA.


⚽ Morocco - Iran (B) 0:1

kick off: Friday, 15/06/2018, 16:00 GMT
location: Saint Petersburg.
⚽ Fifa Football (soccer) World Cup 2018 in Russia. Group stage game in GroupB.


Portugal-Spain (B) 3:3

kick off: Friday, 15/06/2018, 19:00 GMT
location: Sochi.
⚽ Fifa Football (soccer) World Cup 2018 in Russia. Group stage game in GroupB.


⚽ France - Australia (C) 2:1

kick off: Saturday, 16/06/2018, 11:00 GMT
location: Kazan.
⚽ Fifa Football (soccer) World Cup 2018 in Russia. Group stage game in GroupC.


Argentinien - Iceland (D) 1:1

kick off: Saturday, 16/06/2018, 14:00 GMT
location: Moscow.
⚽ Fifa Football (soccer) World Cup 2018 in Russia. Group stage game in Group C


Peru - Denmark (C) 0:1

kick off: Saturday, 16/06/2018, 17:00 GMT
location: Saransk.
⚽ Fifa Football (soccer) World Cup 2018 in Russia. Group stage game in GroupC.


Croatia - Nigeria (D) 2:0

kick off: Saturday, 16/06/2018, 20:00 GMT
location: Kaliningrad.
⚽ Fifa Football (soccer) World Cup 2018 in Russia. Group stage game in GroupD.


⚽ Costa Rica - Serbia (E) 0:1

kick off: Sunday, 17/06/2018, 13:00 GMT
location: Samara.
⚽ Fifa Football (soccer) World Cup 2018 in Russia. Group stage game in GroupE.


Germany - Mexiko (F) 0:1

kick off: Sunday, 17/06/2018, 16:00 GMT
location: Moscow.


Brazil - Switzerland (E) 1:1

kick off: Sunday, 17/06/2018, 19:00 GMT
location: Rostov-on-Don.
⚽ Fifa Football (soccer) World Cup 2018 in Russia. Group stage game in GroupE.


⚽ Sweden - South Korea (F) 1:0

kick off: Monday, 18/06/2018, 13:00 GMT
location: Nischni Nowgorod.
⚽ Fifa Football (soccer) World Cup 2018 in Russia. Group stage game in GroupF.


Belgium - Panama (G) 3:0

kick off: Monday, 18/06/2018, 16:00 GMT
location: Sochi.
⚽ Fifa Football (soccer) World Cup 2018 in Russia. Group stage game in GroupG.


Tunisia - England (G) 1:2

kick off: Monday, 18/06/2018, 19:00 GMT
location: Volgograd.
⚽ Fifa Football (soccer) World Cup 2018 in Russia. Group stage game in GroupG.


⚽ Colombia - Japan (H) 1:2

kick off: Tuesday, 19/06/2018, 13:00 GMT
location: Saransk.
⚽ Fifa Football (soccer) World Cup 2018 in Russia. Group stage game in GroupH.


Poland - Senegal (H) 1:2

kick off: Tuesday, 19/06/2018, 16:00 GMT
location: Moscow.
⚽ Fifa Football (soccer) World Cup 2018 in Russia. Group stage game in GroupH.


Russia - Egypt (A) 3:1

kick off: Tuesday, 19/06/2018, 19:00 GMT
location: Saint Petersburg.
⚽ Fifa Football (soccer) World Cup 2018 in Russia. Group stage game in GroupA.


⚽ Portugal - Morocco (B) 1:0

kick off: Wednesday, 20/06/2018, 13:00 GMT
location: Moscow.
⚽ Fifa Football (soccer) World Cup 2018 in Russia. Group stage game in GroupB.


Uruguay - Saudi Arabien (A) 1:0

kick off: Wednesday, 20/06/2018, 16:00 GMT
location: Rostov-on-Don.
⚽ Fifa Football (soccer) World Cup 2018 in Russia. Group stage game in GroupA.


Iran - Spain (B) 0:1

kick off: Wednesday, 20/06/2018, 19:00 GMT
location: Kazan.
⚽ Fifa Football (soccer) World Cup 2018 in Russia. Group stage game in GroupB.


⚽ Denmark - Australia (C) 1:1

kick off: Thursday, 21/06/2018, 13:00 GMT
location: Samara.
⚽ Fifa Football (soccer) World Cup 2018 in Russia. Group stage game in GroupC.


France - Peru (C) 1:0

kick off: Thursday, 21/06/2018, 16:00 GMT
location: Yekaterinburg
⚽ Fifa Football (soccer) World Cup 2018 in Russia. Group stage game in GroupC.


Argentinien - Croatia (D) 0:3

kick off: Thursday, 21/06/2018, 19:00 GMT
location: Nischni Nowgorod.
⚽ Fifa Football (soccer) World Cup 2018 in Russia. Group stage game in GroupD.


⚽ Brazil - Costa Rica (E) 2:0

kick off: Friday, 22/06/2018, 13:00 GMT
location: Saint Petersburg.
⚽ Fifa Football (soccer) World Cup 2018 in Russia. Group stage game in GroupE.


Nigeria - Iceland (D) 2:0

kick off: Friday, 22/06/2018, 16:00 GMT
location: Volgograd.
⚽ Fifa Football (soccer) World Cup 2018 in Russia. Group stage game in GroupE.


Serbia - Switzerland (E) 1:2

kick off: Friday, 22/06/2018, 19:00 GMT
location: Kaliningrad.
⚽ Fifa Football (soccer) World Cup 2018 in Russia. Group stage game in GroupE.


⚽ Belgium - Tunisia (G) 5:2

kick off: Saturday, 23/06/2018, 13:00 GMT
location: Moscow.
⚽ Fifa Football (soccer) World Cup 2018 in Russia. Group stage game in GroupG.


⚽ South Korea - Mexiko (F) 1:2

kick off: Saturday, 23/06/2018, 16:00 GMT
location: Rostov-on-Don.
⚽ Fifa Football (soccer) World Cup 2018 in Russia. Group stage game in GroupF.


⚽ Germany - Sweden (F) 2:1

kick off: Saturday, 23/06/2018, 19:00 GMT
location: Sochi.


⚽ England - Panama (G) 6:1

kick off: Sunday, 24/06/2018, 13:00 GMT
location: Nischni Nowgorod.
⚽ Fifa Football (soccer) World Cup 2018 in Russia. Group stage game in GroupG.


Japan - Senegal (H) 2:2

kick off: Sunday, 24/06/2018, 16:00 GMT
location: Yekaterinburg
⚽ Fifa Football (soccer) World Cup 2018 in Russia. Group stage game in GroupH.


Poland - Colombia (H) 0:3

kick off: Sunday, 24/06/2018, 19:00 GMT
location: Kazan.
⚽ Fifa Football (soccer) World Cup 2018 in Russia. Group stage game in GroupH.


⚽ Saudi-Arabia - Egypt (A) 2:1

kick off: Monday, 25/06/2018, 15:00 GMT
location: Volgograd.
⚽ Fifa Football (soccer) World Cup 2018 in Russia. Group stage game in GroupA.


⚽ Uruguay - Russia (A) 3:0

kick off: Monday, 25/06/2018, 15:00 GMT
location: Samara.
⚽ Fifa Football (soccer) World Cup 2018 in Russia. Group stage game in GroupA.


Iran - Portugal (B) 1:1

kick off: Monday, 25/06/2018, 19:00 GMT
location: Saransk.
⚽ Fifa Football (soccer) World Cup 2018 in Russia. Group stage game in GroupB.


Spain - Morocco (B) 2:2

kick off: Monday, 25/06/2018, 19:00 GMT
location: Kaliningrad.
⚽ Fifa Football (soccer) World Cup 2018 in Russia. Group stage game in GroupB.


⚽ Denmark - France (C) 0:0

kick off: Tuesday, 26/06/2018, 15:00 GMT
location: Moscow.
⚽ Fifa Football (soccer) World Cup 2018 in Russia. Group stage game in GroupC.


⚽ Australia - Peru (C) 0:2

kick off: Tuesday, 26/06/2018, 15:00 GMT
location: Sochi.
⚽ Fifa Football (soccer) World Cup 2018 in Russia. Group stage game in GroupC.


Nigeria - Argentinien (D) 1:2

kick off: Tuesday, 26/06/2018, 19:00 GMT
location: Saint Petersburg.ruppenspiel
⚽ Fifa Football (soccer) World Cup 2018 in Russia. Group stage game in GroupD.


Iceland - Croatia (D) 1:2

kick off: Tuesday, 26/06/2018, 19:00 GMT
location: Rostov-on-Don.
⚽ Fifa Football (soccer) World Cup 2018 in Russia. Group stage game in GroupD.


⚽ Mexiko - Sweden (F) 0:3

kick off: Wednesday, 27/06/2018, 15:00 GMT
location: Yekaterinburg
⚽ Fifa Football (soccer) World Cup 2018 in Russia. Group stage game in GroupC.


⚽ South Korea - Germany (F) 2:0

kick off: Wednesday, 27/06/2018, 15:00 GMT
location: Kazan.


⚽ Switzerland - Costa Rica (E) 2:2

kick off: Wednesday, 27/06/2018, 19:00 GMT
location: Nischni Nowgorod.
⚽ Fifa Football (soccer) World Cup 2018 in Russia. Group stage game in GroupE.


⚽ Serbia - Brazil (E) 0:2

kick off: Wednesday, 27/06/2018, 19:00 GMT
location: Moscow.
⚽ Fifa Football (soccer) World Cup 2018 in Russia. Group stage game in GroupE.


⚽ Japan - Poland (H) 0:1

kick off: Thursday, 28/06/2018, 15:00 GMT
location: Volgograd.
⚽ Fifa Football (soccer) World Cup 2018 in Russia. Group stage game in GroupH.


⚽ Senegal - Colombia (H) 0:1

kick off: Thursday, 28/06/2018, 15:00 GMT
location: Samara.
⚽ Fifa Football (soccer) World Cup 2018 in Russia. Group stage game in GroupH.


⚽ Panama - Tunisia (G) 1:2

kick off: Thursday, 28/06/2018, 19:00 GMT
location: Saransk.
⚽ Fifa Football (soccer) World Cup 2018 in Russia. Group stage game in GroupG.


⚽ England - Belgium (G) 0:1

kick off: Thursday, 28/06/2018, 19:00 GMT
location: Kaliningrad.
⚽ Fifa Football (soccer) World Cup 2018 in Russia. Group stage game in GroupG.


⚽ Round of 16, game 1: France-Argentina 4:3

kick off: Saturday, 30/06/2018, 15:00 GMT
location: Kazan
⚽ Round of 16
winner groupC - Runners-up group D


⚽ Round of 16, game 2: Uruguay-Portugal 2:1

kick off: Saturday, 30/06/2018, 19:00 GMT
location: Sochi
⚽ Winner Group A - Runner Up Group B


⚽ Round of 16, game 3: Spain-Russia 3:4 i.E.

kick off: Sunday, 01/07/2018, 15:00 GMT
location: Moscow
⚽


⚽ Round of 16, game 4: Croatia-Denmark 3:2 after penalties

kick off: Sunday, 01/07/2018, 19:00 GMT
location: Nischni Nowgorod
⚽ winner groupD - Runners-up group C


⚽ Round of 16, game 5: Brasil - Mexico 2:0

kick off: Monday, 02/07/2018, 15:00 GMT
location: Samara
⚽winner groupE - Runners-up group F


⚽ Round of 16, game 6: Belgium-Japan 3:2

kick off: Monday, 02/07/2018, 19:00 GMT
location: Rostov-on-Don
⚽ winner groupG - Runners-up group H


⚽ Round of 16, game 7: Sweden - Switzerland 1:0

kick off: Tuesday, 03/07/2018, 15:00 GMT
location: Saint Petersburg
⚽ winner group F - Runners-up group E


⚽ Round of 16, game 8: Colombia-England 3:4 after penalties

kick off: Tuesday, 03/07/2018, 19:00 GMT
location: Moscow
⚽winner group H - Runners-up group G


⚽ Quarter-Finals 1: Uruguay-France 0:2

kick off: Friday, 06/07/2018, 15:00 GMT
location: Nischni Nowgorod
⚽


⚽ Quarter-Finals 2. Brazil-Belgium 1:2

kick off: Friday, 06/07/2018, 19:00 GMT
location: Kazan
⚽


⚽ Quarter-Finals 3. Sweden-England 0:2

kick off: Saturday, 07/07/2018, 15:00 GMT
location: Samara
⚽


⚽ Quarter-Finals 4: Russia-Croatia 3:4 after penalties

kick off: Saturday, 07/07/2018, 19:00 GMT
location: Sochi


⚽ Semi-Final 1: France-Belgium 1:0

kick off: Tuesday, 10/07/2018, 19:00 GMT
location: Saint Petersburg
winner QF 2 - winner QF 1


⚽ Semi-Final 2: Croatia-England 2:1 after extra time

kick off: Wednesday, 11/07/2018, 19:00 GMT
location: Moscow
⚽ winner QF 4 - winner QF 3


⚽ Play-off for third place: Belgium-England 2:0

kick off: Saturday, 14/07/2018, 15:00 GMT
location: Saint Petersburg Stadium, St. Petersburg
3rd place match (match for "Golden Pineapple" between the 2 loosers of the 2 Semi-finals.
Free HD-Livestream (German, only in Europe) https://live.daserste.de/
Looser SF 1 - Looser SF 2


⚽ World Cup Final: France-Croatia 4:2

kick off: Sunday, 15/07/2018, 16:00 GMT
location: Luzhniki Stadium Moscow
⚽ Final game of FIFA World Cup 2018 in Russia
Winner of Semi-final 1 plays Winner of Semi-final 2
The winner is the new Football World Champions

Free LiveStream (German, only in Europe) at https://www.zdf.de/live-tv